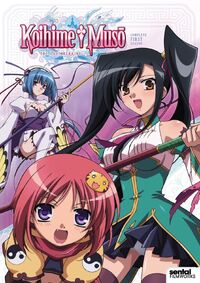 Koihime†Musō is the title of the first anime based on the visual novel series of the Game Company Developed by BaseSon and Yeti. The show ran from July 8 to September 23, 2008, in Japan. From January 4, 2011, The first season has been licensed in North America by Sentai Filmworks was shown in both Canada and the United States. An OVA followed after and was released on April 1, 2009.
The anime follows the basic plot of BaseSon's Eroge Game until about half-way through the story. The second half of the Koihime†Musou anime is drastically different from the visual novel.
This anime is based on an eroge game by Baseson, which was loosely based on the classic Chinese novel Romance of the Three Kingdoms. Having lost her family to bandits during a night raid, Kan'u swears, she will not let others share the same pain. She quickly becomes a well-known and feared by villains bandit hunter. During her journey, she comes across others, who wish to join her cause. One of them is a girl Chōhi, who had a similar experience with bandits in the past.
Director: Nobuaki Nakanishi
Series Composition: Go Zappa
Screenplay: Go Zappa
Character Design: Miwa Oshima
Chief Animation Director: Miwa Oshima
"Flower of Bravery" (OP)

Artist: fripSide; Lyrics, Composition: Chiyomaru Shikura; Arrangement: Satoshi Yaginuma

"Yappari Sekai wa Atashi☆Legend!!" (ED)

Artist: fripSide NAO project!; Lyrics: Nao, Shinichirō Yamashita, and Satoshi Yaginuma; Composition, Arrangement: Satoshi Yaginuma
Community content is available under
CC-BY-SA
unless otherwise noted.